Wine Themed Events
The wines of a particular country or region?  Wines made from a particular grape variety?  Champagne vs Sparkling?
The world of wine offers fantastic opportunities to focus on a particular theme, while still celebrating contrast and variety.
Our wine themed events allow you to explore in depth a particular country or region that you might be interested in, or to take a wine adventure around the world drinking wines made from a single grape variety or classic blend.
Please note - this is not a stuffy wine tasting!
At Taste of the Grape we make acquiring knowledge and enjoyable experience.  So while have plenty to tell you, and you and your guests will learn lots, more importantly you will have fun.  The mood of the event is lively and engaging, people are encouraged to comment on wines - and no-one's opinion is wrong!
Duration: 90 minutes – 2 hours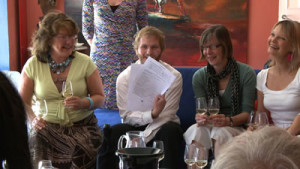 How it works
Introduction to wine tasting and wine tasting technique.
Introduction to the topic – a brief tour of the geography, history and potentially controversy, using maps, imagery and best of all a glass of wine!
Guided tasting of up to eight wines exploring both what defines a particular country, region or wine style, and the contrasting styles within.
Suitable for seated events/team challenges or networking events.
Participation can be encouraged through quizzes, with points and prizes awarded to teams or individuals.
Our events are pitched to ensure that anyone, with any level of wine knowledge will enjoy themselves.
Take a look at our video to see how our events work.
The specific topics covered can be adjusted to suit the needs of the occasion, so why not contact us to discuss your specific requirements.
Examples of themes
The wines of New Zealand
You could be forgiven for thinking that New Zealand just produces fresh and zingy Sauvignon Blancs. But there is a veritable wine odyssey to discover, from the classic 'claret' blends of Cabernet Sauvignon and Merlot in Waiheke Island near Auckland, to the amazing burgundian grape varieties of Chardonnay and Pinot Noir flourishing in Central Otago on the South Island.
The world of Pinot Noir
Pinot Noir is the grape variety that red Burgundy is made from, but has over the last half century gone global.  California, Chile, New Zealand, South Africa are just some of the new world countries where this amazing grape variety is being made into fabulous wine.  Come on a voyage of discovery to find a breadth of styles, characters - and prices!
Champagne vs Sparkling
Champagne has done a wonderful job of defining the best of fizz. But it is challenged by some wonderful wines from the most surprising places (not least the UK) using the classic grape varieties of Chardonnay, Pinot Noir and Pinot Meunier.  And we can't wait to change your perceptions of Cava and Prosecco.