About Taste of the Grape
Taste Of The Grape runs corporate wine tastings and private wine tasting parties; all our events are as entertaining as they are educational.  We believe that even though there's so much to explore about wine, it should be fun to learn about it, and most of all a pleasure to drink.
So, no lectures, plenty of entertainment, exciting wine – an event to remember!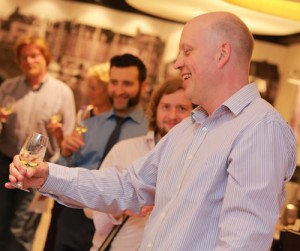 Taste Of The Grape is owned by Tim Syrad.
Tim has been educating and entertaining people about wine for over 20 years.
He is fully WSET (Wine & Spirit Education Trust) qualified, and a member of the AWE (Association of Wine Educators). He has a great reputation delivering private and corporate wine tastings and events, and is able to engage an audience of 5 or 500.
In addition to running corporate and private wine events, Tim runs the Richmond and Teddington Wine Societies, meeting monthly in South West London, as well as fine wine tastings and dinners. He also has a thriving wine tour business, Tim Syrad Wine Tours, escorting tours to wine producing regions all over the world.
Need more information?  Have a look at some Frequently Asked Questions about our tastings, read the testimonials from our Corporate and Private clients – or Contact Us!