At Taste of the Grape we run private and corporate wine tastings to suit every taste and budget.  We pride ourselves on making our events entertaining, inclusive and fun – we don't do stuffy wine tastings!
Here are some ideas of themes for events: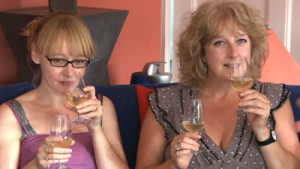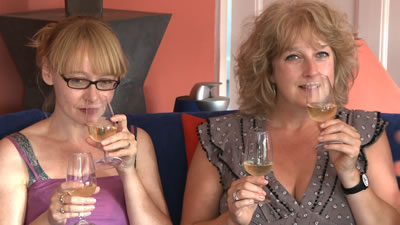 Introduction to Wine Tasting
A great opportunity for people to find out why they like different styles of wines, and why wines taste like they do.  We cover fizz, whites, reds and even sweet wines, and people will finish the tasting with a really good understanding of the key elements to look for in a wine, and some great ideas on what kinds of wines they might like to explore further.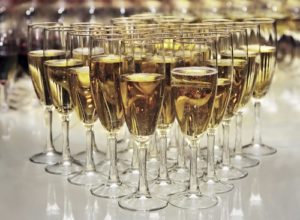 Champagne and Sparkling Wine
An exploration of the magical world of sparkling wine. Our most popular tasting includes tasting contrasting styles of champagne – Blanc de Blancs vs Blanc de Noirs, or Vintage vs Non Vintage, and also compares champagne with some of the other major sparkling wines of the world, for example Crémant, Cava, Prosecco and Méthode Traditionelle wines from the new world.  For a very special event we can include some really famous names and explore why for example Bollinger tastes different to Lanson, or even why Winston Churchill's favourite wine was Krug!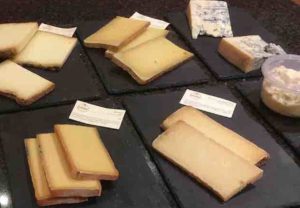 Wine and Cheese
We promise – not a cocktail stick or piece of pineapple in sight!  We will explore a range of cheeses in prime condition, and match them with wines that truly complement and enhance their flavours. We usually include some cheeses people will not have tasted before – and all our cheeses are in perfect condition – beautifully ripe, served at the right temperature. We can include sparkling wine, white wines, red wines and even fortified or sweet wines. We promise to change some preconceptions about what works best – we love it when people discover new taste matches, for example just how well many white wines go with cheese.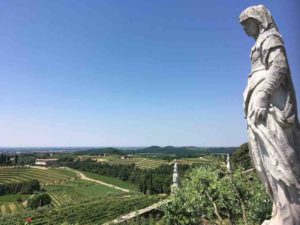 The wines of a country or region
You could be forgiven for thinking that New Zealand just produces fresh and zingy Sauvignon Blancs. But there is a veritable wine odyssey to discover, from the classic 'claret' blends of Cabernet Sauvignon and Merlot in Waiheke Island near Auckland, to the amazing Burgundian grape varieties of Chardonnay and Pinot Noir flourishing in Central Otago on the South Island.
We've used New Zealand as an example but we can conduct tastings of wines from any major wine producing country or region.  Get in touch to discuss potential options.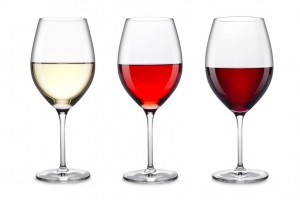 Exploring a grape variety
For example: Pinot Noir is the grape variety that red Burgundy is made from, but has over the last half century gone global.  California, Chile, New Zealand, South Africa are just some of the new world countries where this amazing grape variety is being made into fabulous wine.  Come on a voyage of discovery to find a breadth of styles, characters – and prices!
Other ideas for styles/grape varieties that would create a fabulous tasting – Cabernet Sauvignon, Chardonnay, Chianti, Rioja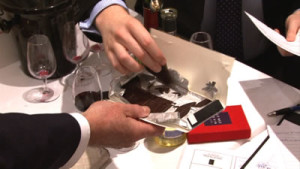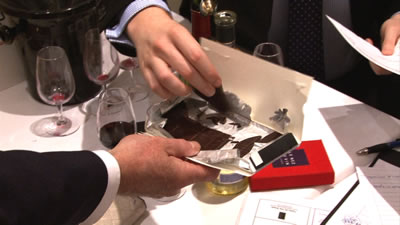 And now for something completely different ….. what about Wine and Chocolate
Yes, it's not a typo, there really are wines that go with chocolate: surprise yourself and startle your taste buds with red wines, sweet wines, and sparkling wines. This is the ultimate decadence for chocoholics who love wine.
At Taste of the Grape we make acquiring knowledge an enjoyable experience.  So while we have plenty to tell you, and you and your guests will learn lots, more importantly you will have fun.  The mood of the event is lively and engaging, people are encouraged to comment on wines – and no-one's opinion is wrong!
How it works
Our events generally last 60-90 minutes, and we can design them to accommodate just about any group size – as few as 10 or more than 100.
A broad outline of one of our events
Introduction to wine tasting and wine tasting technique from the Taste of the Grape host*.
Introduction to the topic of the event.
Guided tasting of up to eight wines exploring a range of styles that demonstrate the breadth of wines for that grape variety/country/food matching opportunity.
Suitable for seated events/team challenges or networking events.
Participation can be encouraged through quizzes, with points and prizes awarded to teams or individuals.
Our events are pitched to ensure that anyone, with any level of wine knowledge will enjoy themselves.
We can hold events in your home, office or any other venue you choose. We bring all the equipment for the tasting: glasses, spittoons, crib sheets, pens, quiz sheets and prizes (if required) and of course the wine and any food being tasted.   We tailor what we do to meet your needs – the number of people you want to invite, the venue, and of course your objective for the event.
Same content as in Corporate Wine Tasting Page from Pricing onwards