Taste of the Grape run interactive, informal, highly enjoyable wine tastings over Zoom.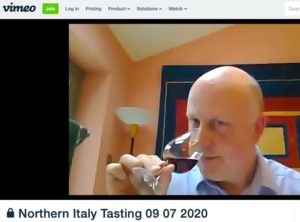 Our events are suitable for a single group of people, or for a wide number of people in different locations. Provided participants can link to a Zoom call, and are happy to open and pour their own wines, an extremely enjoyable wine tasting can be experienced – we can even include a competitive element if desired!
We work with the event organiser to agree a line-up of delicious wines that suits the occasion and budget. We can arrange delivery directly to participants (within mainland UK), or make a bigger shipment to the organiser if they wish to distribute the wines.
We will set up a Zoom meeting for the agreed time, which your guests can watch together – we even run tastings for groups of people in different houses!
We always discuss the requirements for the tasting in advance and we work with the organiser to ensure all participants are fully briefed on how the event will run, and that the Zoom call is properly managed so any questions participants may have are answered.
Cheese Pairing & Recipe Suggestions
If appropriate we will make suggestions for cheeses that would go well with the wines we are tasting, and provide links to recipes that would go particularly well when finishing up wines after the tasting.
We provide helpful instructions on how to serve the wines (for example, when and how to decant a special red wine, or how long before tasting you should remove a white fine Burgundy from the fridge), and for events where a competitive element is requested will provide quiz sheets.
Half Bottles available to maximise flexibility
We can also supply wines in half bottles so smaller groups of people can still taste a wide variety of wines over a single evening.
Bespoke Event Pricing & UK delivery
Prices can be based on a per head basis or calculated on the amount of wine required. We can deliver throughout the UK.
As there are many variables with this type of online event, please get in touch to get a quotation.
With larger number of participants, the major drivers of cost will be the wines chosen and associated carriage costs.
Examples of recent Zoom tastings we have done:
35 members of the Oxford & Cambridge Club participated in a tasting of wines from Italy
40 members of the Chalfont Wine Club participated in a tasting of Classic French wines.
To discuss your event in more detail, call, email or use the contact form below for a quotation for an event to remember..
In addition to running live Zoom events, Taste of the Grape owner Tim Syrad runs regular online tastings that are videoed and posted to his Youtube channel. Wines tasted are available to buy from his website, timsyradwines.com. Click here for more information.