Food and Wine Events
Wine with food is clearly one of life's greatest pleasures.  But we can get stuck with a small list of wines that we think we have to drink with specific foods – red wine with cheese, white wine with fish etc.
Taste of the Grape's food and wine events are designed to excite and challenge palates by exploring in depth how wines go with different foods.
Please note - this is not a stuffy wine tasting!
At Taste of the Grape we make acquiring knowledge and enjoyable experience.  So while you and your guests will learn lots, more importantly you will have fun.  The mood of the event is lively and engaging, people are encouraged to comment on how the wines go with different foods - and no-one's opinion is wrong!
Duration: 60-90 minutes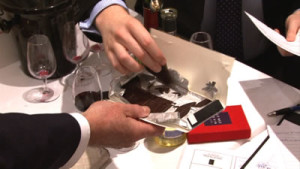 How it works
Introduction to wine and food matching (with a glass of fizz).
Guided tasting of up to eight wine and food pairings through which we explore
How the elements of wine (sweetness, acidity, fruit flavour, tannin. etc) work with different foods.
What wines work best with which foods.
Some wine/food pairing surprises (pleasant ones!).
Participation is encouraged through quizzes, with points and prizes awarded to teams or individuals, and the event is pitched to ensure that anyone, with an interest in food and any level of wine knowledge will enjoy themselves.
Take a look at our video to see how our events work.
Wine and Cheese
We promise – not a cocktail stick or piece of pineapple in sight!
Rather we will explore a range of cheeses in prime condition, and match them with wines that truly complement and enhance their flavours.
We will explore how white wines, red wines and even sweet wines go with different cheeses – and we promise to change some preconceptions about what works best.
Wine and Chocolate
Yes, it's not a typo, there really are wines that go with chocolate: surprise yourself and startle your taste buds with red wines, sweet wines, and sparkling wines.
This is the ultimate decadence for chocoholics who love wine.
Wine and Other Foods
We can create a wine and food matching event to meet your requirements – perhaps focusing on the cuisine of a particular region, or even taking on the challenge of vegetarian or vegan food.
We are happy to work with your preferences for food catering, please contact us to discuss your specific requirements.